Sailing On a Banshee Wind, Volume I: Poems of Healing, Love and Acts of Creation
By Ned Wolf
Poetry that inspires readers to grow beyond limitation to experience their innate power to heal, love and create. Selections examine ways we block our healing and creative powers with the force of our own limited thoughts and attitudes. Humor, original imagery and free verse are used to challenge readers to examine their own perspectives and choose options aligned with their fullest constructive expressions.
The Therapeutae Press (2011)
ISBN: 978-1-6184247-8-5
110 pages
Paperback edition: $19.95 + shipping available by contacting the author (click this link)
eBook/Kindle edition: $4.99 available at:
Nook edition at Barnes & Noble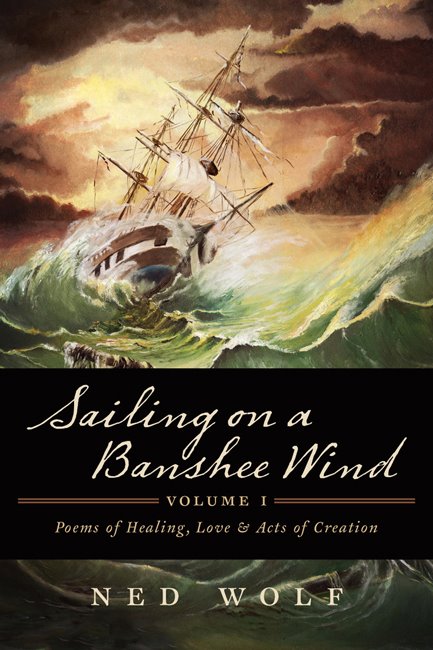 On The Road to Innocence
Many of us imagine
we're refugees seeking
the road to our own
Innocence.
We align our maps
with compasses of morality,
fearful of getting lost somewhere
in the jungles of self-condemnation.
Such travellers —
— we're angels really,
trying on demon costumes;
"How the devil do you fit
these f*#@ing shoulder pads
over these pesky wings?"
We have not yet realized that there are no roads
that lead beyond the
Land of Innocence.
Suffering is not a travel requirement
for this journey.