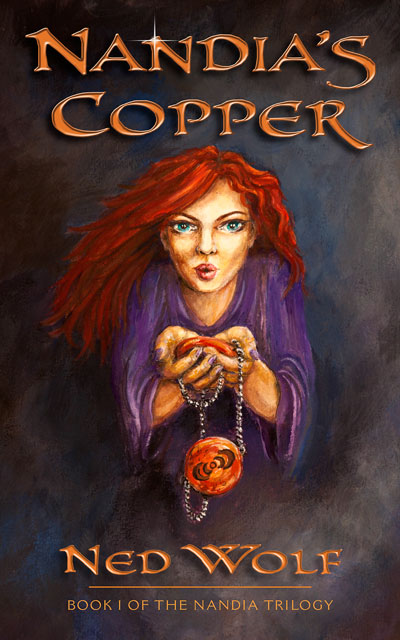 Nandia and I invite you to write a review of Nandia's Copper. Click on the "Create your own review" tab below. All reviews are moderated to filter out spam before publishing. Your email information is kept private and is not shared with anyone.
Nandia Trilogy
Average rating:
9 reviews
Mar 1, 2018
Recommended!
A good page turner with relatable characters, humor, action and knowledge of little-known healing modalities. I first picked up the third book in the Nandia Trilogy but immediately bought Books One & Two. Thoroughly enjoy this series — I think you will too.
Feb 12, 2018
Cool Psychic Powers on Display
Just finished the third book in this trilogy. It started off fun and just got better. Great characters and wild adventures.
Feb 12, 2018
Delightful and Profound.
I enjoyed these books so much, on the surface it's a delightful story with engaging characters and an interesting plot. This is a bit deceptive however, as the real joy of the books is the wisdom and truth that find their way into every encounter.
Feb 12, 2018
Great Story.
Very entertaining, likeable characters, great story...looking forward to the second book!
Dec 30, 2016
A book of healing and hope
I found Nandia's Copper to be a book of healing and hope, told through a lovely heart warming story with wonderful fun characters. I loved it.
Dec 5, 2016
I didn't want it to end
The future seems so familiar in Ned Wolf's fantastic tale. There are villains and dangers to overcome just as time is about to run out on the human race. The delightful difference between this and other books of this genre is that the heroine and hero, Nandia and Bernard, instead of bombs and bluster, use their wit and personal magic to save the day. It's a great read, a real page turner. I look forward to the last 2 books in the trilogy.
Dec 5, 2016
Fun and adventure filled story!
Adventure and mystery abound in this 1st book of the Nandia's Trilogy. Lovable characters and a story that makes you not want to put the book down until you find out how they made it through the twists and turns they are faced with along their path. Especially enjoyed the abilities the characters have mastered to communicate with each other and travel to bring about healing to others. Also, how the author portrays each of them makes you want to go along on the adventure and learn these special ways of healing. Can't wait for the next book to come out!
Nov 17, 2016
A sweet, gentle and lovely story
A sweet, gentle and lovely story with many words of wisdom for us all, jointly and as individuals. Given the current state of affairs in this country and the world, this book is is especially poignant today. It's definitely a special "keeper". A friend to mark in and place on your shelf for future reference.
Nov 5, 2016
What a wonderful story
What a wonderful story ... could not put it down and have referred back to the story many times. Can't wait for the next book to come out....  Thanks Ned.
A letter from Sharon to the author:
Thank you for your thought provoking articles — that I look forward to receiving in my email.
Also, I wish to express my gratitude to you for gifting me with Book one of the Nandia Series.   I so enjoyed reading Book I  which definitely was a page turner. It is a book, rich in wisdom with a  wealth of wonderful tips that I really appreciated as an amateur dowser for a number of years now, who also is aspiring to increase my intuitive and self-healing skills as well as a bit of telepathic capability.  The teleporting may have to wait till my next incarnation, but in the mean time, I  never cease to be amazed at all the little synchronicities in my days and encounters, including being led to your website (simply out of curiosity) even though I missed attending your presentation at the San Jose Dowsers meeting.
I particularly love all the beautiful examples of how to approach problems with a loving, open & creative mind to effect a win-win for all concerned; and how to peacefully & very skillfully enter into a relationship with others with compassion & respect, to facilitate trust and willingness to open up to the love & assistance being offered.
I am also quite pleased that my husband took an interest this week in reading the first book after I completed it.  And now I'm off on the journey of experiencing more adventure and wisdom in  Book II of this very special series of books you have authored, with Book III waiting in the wings to be read & experienced as well in good time.   They may look small in size,  but they are mighty in substance!  HOW WELCOME  they are — as tools for living on this 'wild and wooly' planet.
I might add that now that I've finished Nandia's Copper & am currently engrossed in the 2nd book of this series,  I've noticed that both my husband and I, are taking advantage of more frequent free moments in our days,  to read another chapter or two.  I find these books very uplifting and lightening to my spirit — which is so welcome in a world where our news media & so many movies produced, seem to focus so heavily on promoting fear, more polarity, more cynicism,  which can so easily drain one's energy instead of uplifting one's spirit.
With much gratitude,
Sharon
Jack Welsh in the November 15th, 2016 Daily Sun:
…And on another subject, my buddy Ned Wolf will be making a presentation at the Outdoor Club meeting at the Adult Center on Monday, November 21, at 6 p.m.
He'll be discussing the first of his three-book trilogy, "Nandia's Copper," which highlights natural healing in a thought-provoking fantasy adventure of intrigue, deceit and redemption.
Ned recently moved here from Perth, Australia, which features a Mediterranean style climate, pedestrian mall areas and Whiteman Park, a nearly 10,000-acre bushland on the edge of that city. It has wonderful hiking trails, bike paths and its own wildlife park. Be sure to ask him about the protected population of marsupials living there.
The tale told in Ned's book, "Nandia's Copper," is about a pair of healers sent on a mission of mercy to another planet in the city of Geasa. There, a deadly epidemic threatens the very survival of the town. Their adventure is interwoven with the difficulty of persuading the endangered inhabitants to trust in their natural ability to heal themselves. The second book in the trilogy is "Nandia's Apparition," which is due to be published in June of 2017.
Ned is also an accomplished musician (soprano saxophone) and has a robust sense of humor. (What do you call a boomerang that doesn't come back? Answer: a blimey stick!) His presentation promises to be a very interesting evening.
Niki DeShazo in the Saturday, December 3, 2016 NAU Lumberjack
Nandia's Copper is the first book in the Nandia Trilogy by Ned Wolf, a local to northern Arizona. Wolf works as an author, licensed family counselor and natural healer.
Nandia's Copper is a self-help book written as a fictional novel. Books are a form of therapy for many. Blending life lessons with fiction is not new, but purposely making it a form of self counseling in a fictional story is a newer tactic Wolf uses in the book.
The novel is filled with intriguing ideas, some are radical and new. The book talks about dowsing — looking inside yourself for answers with your own intuition — musical therapy, dreaming, the power of the mind and similar natural healing techniques.
These ideas provide alternative forms of healing in a world where mental health is highly neglected and offers a few solutions that do not work for everyone. It opens a door to new solutions, and the promise of new answers gives the book its purpose. Including these tactics in a book potentially helps the reader heal privately. It helps the reader decide the next step, if more steps are needed or desired and gives the reader power.
Putting these ideas in a fictional setting where the reader can escape into a fictional world and relate to the character is the true power of this book.